Highlights
Located in the Gulf of Thailand, just 12 km south of the Cambodian coast, Phu Quoc is also known as the Pearl Island & considered an eco-tourist center of Vietnam as well as Southeast Asia. The largest island in Vietnam is well known for stunning beaches, untouched natural environment, the easy going and relaxed atmosphere, friendly locals, and fantastic scuba diving and snorkeling.
The majority of Phu Quoc Island is dedicated to National Park and protected marine environment, promising to provide you & your family an unforgettable experience with plenty of exciting activities and places to visit during your stay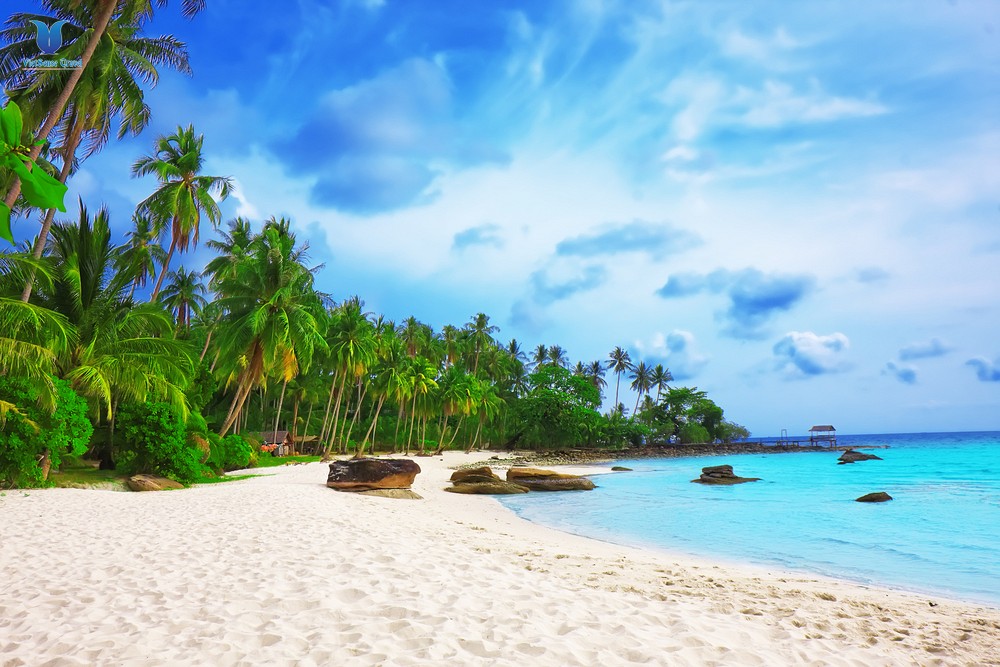 Detailed itinerary
Day 1: Phu Quoc arrival
Upon arrival at Phu Quoc airport, pick up & transfer to hotel/resort for check in. Then free for relaxing on the beautifully white sand beaches.
Overnight in Phu Quoc.
Day 2: Phu Quoc (Breakfast)
A whole day free for lazing on the pure white sand, frolicking in azure water, cruising to deserted islets, playing water sports or trekking under canopies of evergreen leaves.
Overnight in Phu Quoc.
Day 3: Phu Quoc (Breakfast)
Another whole day free at leisure.
Overnight in Phu Quoc.
Day 4: Phu Quoc departure (Breakfast)
Free at leisure until transfer to Phu Quoc airport for the departure flight.
End of services.
Destinations

Hotels/Resorts/Cruises Name

Room Type

Superior Category

Phu Quoc

Thien Hai Son Resort (or similar)

Mountain View

Deluxe Category

Phu Quoc

Eden Resort (or similar)

Deluxe Garden View

First Class Category

Phu Quoc

La Veranda Resort (or similar)

Deluxe Garden View
Inclusion:
· 3 nights accommodation based on twin share (including daily breakfast, tax & service charge)
· 2 way airport transfers
Exclusion:
· Tour guide
· International and domestic flights
· Lunch and dinner
· Drinks
· Personal expenses
· Single supplement
· Compulsory Gala Dinner on 24th December 2014 & 31st December 2014 (if any)
· Others not mentioned
1

· 5,069,682 (₫)
~ US$ 223

· 10,275,768 (₫)
~ US$ 452

· 19,937,718 (₫)
~ US$ 877

2

· 2,932,686 (₫)
~ US$ 129

· 5,933,574 (₫)
~ US$ 261

· 11,526,138 (₫)
~ US$ 507

3-4

· 2,637,144 (₫)
~ US$ 116

· 5,342,490 (₫)
~ US$ 235

· 10,366,704 (₫)
~ US$ 456

5-6

· 2,432,538 (₫)
~ US$ 107

· 4,933,278 (₫)
~ US$ 217

· 9,571,014 (₫)
~ US$ 421

7-10

· 2,318,868 (₫)
~ US$ 102

· 4,683,204 (₫)
~ US$ 206

· 9,116,334 (₫)
~ US$ 401

11-15

· 4,501,332 (₫)
~ US$ 198

· 8,752,590 (₫)
~ US$ 385

16-20

· 4,273,992 (₫)
~ US$ 188

· 8,297,910 (₫)
~ US$ 365

21-25

· 4,160,322 (₫)
~ US$ 183

· 8,070,570 (₫)
~ US$ 355

26-30

· 4,092,120 (₫)
~ US$ 180

· 7,956,900 (₫)
~ US$ 350

Single supplement

· 2,932,686 (₫)
~ US$ 129

· 5,933,574 (₫)
~ US$ 261

· 11,526,138 (₫)
~ US$ 507