Highlights
The Mekong River is one of the world's 10th rivers in its river length and has great influences upon nature and societies of the Indo-china Peninsula. The name "MEKONG" originate in Thai language, Mae Nam Khong1). The source of the Mekong River is in Tibet mountains and is called Dza Chu River (River of Rock). After running through very narrow valley paralling Yangz Jiang and Salween River, the Mekong reaches to Yung-Nan Province of China and is called Lancang Jiang (Turbulent River). Via Golden Triangle, the crossing of China, Myanmar and Laos boarder, the Mekong flow into Vientiane Plain. The term, Lower Mekong means downstream segment from the point. There are some notorious rapids for French navigation plan in colonial period before the Mekong get to Cambodia, and the last segment is the Mekong Delta in Viet Nam, which distributes grate influences to agriculture, especially paddy fields there.
Itinerary in brief
· Day 1: Ho Chi Minh City - Can Tho (L)
· Day 2: Can Tho - Ho Chi Minh City (B, L)
Mekong Delta Cruise to visit Cai Be Market 2Days/1Night
Details itinerary
Day 1: Ho Chi Minh City - Can Tho (L)
7:00am pick up from your hotel in Ho Chi Minh. This trip provides a look at a wide variety of the life and scenery of the Delta. On the way you can see green rice paddy fields stretching towards the horizon. After arrival in Cai Be, a boat takes you to the floating market with sellers and buyers bargaining and exchanging their goods from their boats. Next, a boat rides on the maze of shady canals visiting the An Binh islands (Vinh Long). We will enjoy the local tropical fruits and see how local people cultivate their orchards, make their living from ceramics, popcorn and rice paper... A nice chance for bicycle riding, roaming through the village and looking at the local handicraft shops. A stop will be landed on Vinh Long market a nice walk around. Continue driving to Can Tho. Over night at hotel in Can Tho.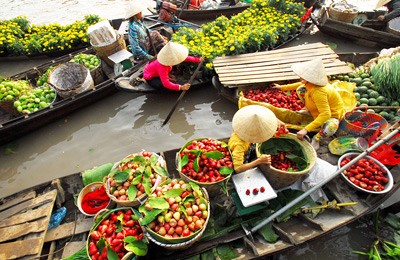 Day 2: Can Tho - Ho Chi Minh City (B, L)
Cruising along the small and picturesque tributaries by rowing boat, we will see the Cai Rang floating market (the nicest one with heaps of rowing boats). Take in the beautiful scenery and the daily activities of the locals who lives along the Mekong canals and you will roam through the village to visit a rice husking mill and a rice noodles making shop. Drive back to Sai Gon via My Tho city. Arrive Ho Chi Minh City at 5:00pm. Tour finishes at your hotel!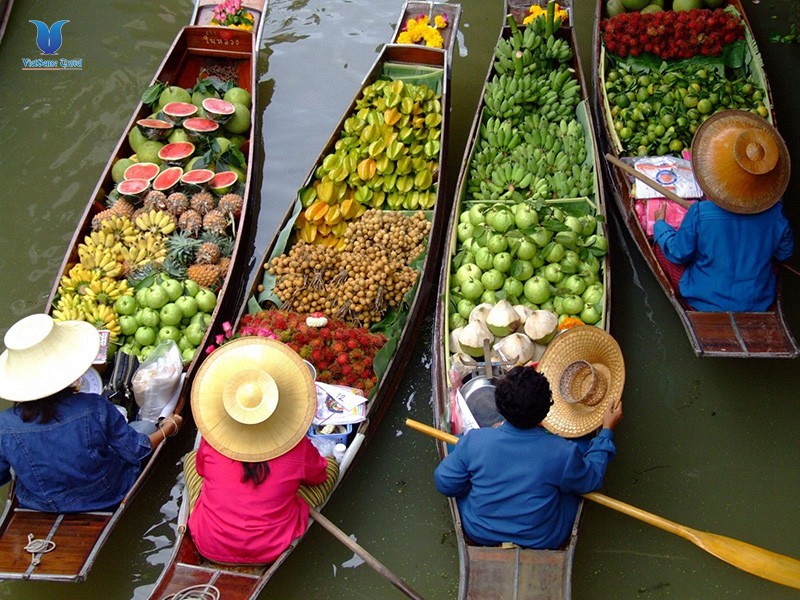 Destinations

Hotels/Resorts/Cruises Name

Room Type

Superior Category

Can Tho

Saigon Can Tho Hotel

Superior

Deluxe Category

Can Tho

Golf 4 Can Tho Hotel

Deluxe

First Class Category

Can Tho

Victoria Can Tho Resorts

Superior

Legend Category

Can Tho

Victoria Can Tho Resorts

Colonial Riverview
Tour Cost included:
· 1 nights hotel accommodation on a twin-share basic with daily breakfast
· Meals as mentioned in the itineraries: Vietnamese food, Asian Food basic.
· Private transfers within the tour by air-conditioned vehicle, including pick-up from your hotel.
· English Speaking Tour guide. Other languages on request
· Boat trip cruise to visit Cai Be Floating Market.
· All entrance and sightseeing fees
· All taxes & services charge.
Tour Cost Non Included:
· International airfare and airport tax in Vietnam
· Beverages and other meals do not indicate in the program
· Visa fees to Vietnam & Cambodia.
· Early check-in and late check-out at all hotels
· Travel insurance
· Personal expenses (laundry, telephone, shopping...)
· Tipping/ Gratuities
· Single supplement
· Any additional expenses caused by reasons beyond our control such as natural calamities (typhoon, floods), flight delays, rescheduling or cancellations, any accidents, medical evacuations, riots, strikes etc.
1

· 6,911,136 (₫)
~ US$ 304

· 9,593,748 (₫)
~ US$ 422

· 11,571,606 (₫)
~ US$ 509

2

· 4,001,184 (₫)
~ US$ 176

· 5,547,096 (₫)
~ US$ 244

· 6,683,796 (₫)
~ US$ 294

3-4

· 3,591,972 (₫)
~ US$ 158

· 5,001,480 (₫)
~ US$ 220

· 6,024,510 (₫)
~ US$ 265

5-6

· 3,319,164 (₫)
~ US$ 146

· 4,615,002 (₫)
~ US$ 203

· 5,547,096 (₫)
~ US$ 244

7-10

· 3,160,026 (₫)
~ US$ 139

· 4,387,662 (₫)
~ US$ 193

· 5,274,288 (₫)
~ US$ 232

11-15

· 3,046,356 (₫)
~ US$ 134

· 4,205,790 (₫)
~ US$ 185

· 5,069,682 (₫)
~ US$ 223

16-20

· 2,887,218 (₫)
~ US$ 127

· 4,001,184 (₫)
~ US$ 176

· 4,819,608 (₫)
~ US$ 212

21-25

· 2,796,282 (₫)
~ US$ 123

· 3,887,514 (₫)
~ US$ 171

· 4,683,204 (₫)
~ US$ 206

26-30

· 2,750,814 (₫)
~ US$ 121

· 3,819,312 (₫)
~ US$ 168

· 4,615,002 (₫)
~ US$ 203

Single supplement

· 2,932,686 (₫)
~ US$ 129